Another day, another mass shooting. This time it happened in a Boulder, CO grocery store. Go, media—do what you do best. Whip us all up into a gun-control, finger-pointing frenzy. Someone says white supremacist. What do you do? Run with it or verify first? You run with it like you mean it.
Why verify anything when you can push your preferred party's narrative? The plan is to fire away with the intellectually lazy, ideology-driven lie—mass shooters are almost always gun-loving, Second Amendment-worshiping white supremacists.
After hours of hand wringing and keyboard jabbing, you learn the white supremacist is called Ahmad Al Aliwi Alissa. He's from Syria and is a Muslim. Hold the presses. Retool the story to … got it. Shift the narrative to racism, but be careful—when it comes to a religion of peace, tread carefully, unless it's Christianity.
Journalism is dead. Left-leaning writers and editors sacrificed it four years ago. Now they seem to consider it their duty to frame the news to fit ideological preferences—even if it means sacrificing any vestiges of objectivity left over after four years of resistance to Donald Trump.
Scattershots
Since the Boulder shooting, journalists, pundits and Twitter Leftists have been in full assault mode. According to them, the NRA has more blood on their hands. So does the GOP for resisting the necessary destruction of the Second Amendment. F your thoughts and prayers, you bigots—we need legislation, not God.
Newsflash: Ahmad is the murderer, not the NRA or GOP or white Americans who own guns. We're all outraged, hurting and saddened by yet another tragic mass shooting. Claiming the moral high ground and blaming the other side is reactionary, thoughtless and despicable.
Assault weapons bans, gun-free zones, closing loopholes in background checks—it's all on the table. Chipping away at the Second Amendment is the plan. By the way, does anyone seriously think armed criminals care one whit about gun-free zones? The truth is that gun-free zones put people in danger and empower criminals. Why? Because guns aren't evil—people are.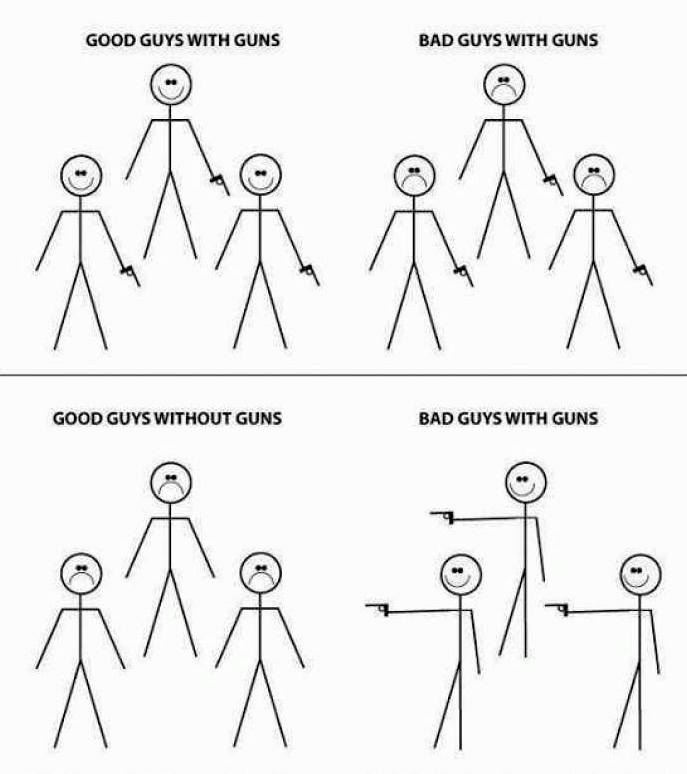 Misfires
Let's talk about assault rifles—or more accurately, semiautomatic rifles that fire one round per trigger pull (just like handguns). I can see how shooting one would be fun at the range. And I once preferred that citizens not match firepower with law enforcement or the National Guard. But now that our military leaders and guardsmen are being used by the party in power, a well-armed citizenry may be necessary to prevent tyranny.
Let's get real—guns are not the problem. They don't run down the street shooting people. They're designed to be used by good people to protect other good people. Should we limit their use? Absolutely. Here's how:
Let's make it more dangerous for criminals to use them and less difficult for law-abiding citizens to keep them. Consider Texas. It's easier for Texans to buy and use guns than for Californians to do so. Which state has a gun control problem? In the Good Ol' Days when commonsense gun ownership and respect for the Second Amendment prevailed, mass shootings were exceedingly rare. What changed?
We changed. Our culture changed. Our laws changed. Expectations of personal responsibility and accountability were co-opted by nanny-state policies. Do we really think more gun control is the answer? For decades we had little or no gun control and yet suffered a tiny fraction of the gun violence that now plagues our nation. How will more gun control address the root causes of our violence problem?
Implosion
Sadly, the problem is within us; it's within our devolving culture. For example, one side vilifies law enforcement. How can making their jobs to protect and serve us more difficult help curb violence in our streets? We're all outraged and fed up with the senseless slaughter. Let's solve the problem together.
No more grandstanding, blame-gaming, finger-pointing and moral high grounding. People are dying. We must do something to stop the slaughter. On that, there's no disagreement. We simply disagree on how best to do it.
We'd love to hear your thoughts about this article. Please take a minute to share them in the comment section by clicking here. Or carry the conversation over on your favorite social network by clicking one of the share buttons below.
Join the conversation!
We have no tolerance for comments containing violence, racism, profanity, vulgarity, doxing, or discourteous behavior. Thank you for partnering with us to maintain fruitful conversation.
Stay on top of your job, your department's goals, and your company's objectives
Making your boss look good can only reflect favorably on you. Both your boss and his or her supervisors will appreciate this.
The best way to make your boss look good is to handle your work efficiently and thoroughly. If your boss is fair, he or she will give you credit for the work, increasing your chances of promotion.
If your boss is not doing his or her share of the work, leaning on you unfairly without giving you the credit, it's still likely that you'll be promoted when your boss is promoted. That person knows you've been doing more than your share, and he or she won't be able to take a new position without your help.
Becoming a Mentor to Others
Maybe you're only 27 years old, or perhaps you've only been with your present firm for a year and a half. Yet, with your previous experience and achievements, you may already be in a position to serve as a mentor to junior members of your organization. This can be accomplished on an informal, ad hoc basis, and you can literally choose the amount of energy you're willing to commit. Helping junior members always looks good to those above you, especially at performance review time.
Stay on top of your job, your department's goals, and your company's objectives. This three-way strategy includes reviewing your job description, deciding precisely what your department's goals are, and determining your company's objectives:
Your Job Description
First, knowing your job description and honoring it, or amending it if necessary, protect you from any misunderstandings. It will also give you an idea of the part you play in the total picture of the organization, an important factor in your work satisfaction and chance of promotion.
Your job description ideally contains all the important activities of your position, the knowledge you need to have or acquire to perform those activities, and some sense of your overall role. If your job description does not adequately detail the information you need to know and the responsibilities you have, now is the time to change it.
Company Goals
Second, learn and understand the goals of your part of the company. By whatever method your organization is broken into groups — department, division, project team — your group has objectives.
Goals are important to guide actions as well as to mark milestones. Knowing your group's goals will help you to set priorities for your own work and make wise decisions concerning how jobs can best be done.
What is the Mission?
Finally, be aware of your organization's mission. Any organization, from the smallest business to the multibillion-dollar corporation, has a mission. If you don't already know it, find out. Your organization's brochure, annual report, promotional literature, or employee handbook will have the mission spelled out.
The mission will unify and give meaning to all the division or department goals. Although conflicts among divisions will occur because of the nature of different responsibilities, a solid base can be produced when all employees realize the overall mission of the organization.
– – – – –
The Left grants free passes to Joe Biden for his legions of treasonous, immoral, and illegal transgressions.
Hollywood loves to portray leftist media outlets, newspapers, and journalists as fair and impartial. Indeed, there is no other way that these institutions and such individuals have been portrayed, despite overwhelming evidence to the contrary. A recent example is the movie She Said, which is the latest in a long line of productions that extol the virtues of one of the nation's oldest newspapers, the New York Times.
Starring Carey Mulligan, Zoe Kavan, Patricia Clarkson, Andre Braugher, and Ashley Judd, as herself, She Said is a story about the New York Times investigation of Harvey Weinstein. Some of the heartfelt testimony of the people the reporters interviewed are quite touching. Yet, the movie oversells the impact of the Times reporting. Investigative reporter Ronan Farrow had already published a major, professional, factual expose on Weinstein in the New Yorker.
Impartial, Caring, Concerned People?
She Said goes out of its way to present the New York Times editorial staff as carefully line-editing stories, and as impartial, caring, concerned people, interested only in truth and in getting articles right before publishing them. A major case in point is how veteran actor Andre Braugher portrays Dean Baquet, who served as the executive editor of Times from May 2014 to June 2022. Baquet is depicted as the voice of reason, proceeding with calm, cool clarity.
In reality, Baquet is one of the major players on earth who kept the now thoroughly-debunked 'Trump Collusion with Russia' hoax alive and along with Adam Schiff did major damage to this country. For three years, and without evidence, pretty much daily the Times falsely claimed that Donald Trump's presidential campaign colluded with Russia to steal the 2016 election.
The hopelessly biased Baquet decided to switch gears after the Mueller Report imploded. At Baquet's direction, the Times would shift its focus of its coverage from the 'Trump-Russia affair' to the president's 'alleged racism.'
Not a Journalist, in Any Way
"We built our newsroom to cover one story, and we did it truly well," Baquet said, rather proudly, apparently grossly unaware of the historically profound idiocy of his statement. "Now we have to regroup, and shift resources and emphasis to take on a different story." A truthful story?
Through daily erroneous reporting, the 'newspaper of record' would now seek to expose 'the racism' of President Trump, which, to this day, it has not proven.
Baquet is not a journalist in any sense of the word; not even close. He is a shill of the Democrat party; what Vladimir Lenin termed a 'useful idiot.' Keep this in mind as you watch this otherwise engaging movie, and then ask yourself this: Where is the Times in relation to Joe Biden?
Baquet remained in his post for the first 17 months of the Biden administration. While the Times and the Left in general are perpetually eager to identify, dissect, catalog, and endlessly detail the faults of Donald Trump (real, imagined, or most concocted out of whole cloth), they deny or downplay a mountain of misdeeds by Joe Biden, as they also did with Barack Obama, Bill Clinton, and Hillary Clinton.
Lifetime Free Passes
Many pundits now exclaim that to block Biden from running in 2024, the Times and the leftist media machine in general have now turned on him. The current classified documents scandal aside, the Left grants free passes to Joe Biden for the legions of transgressions in his life. They overlook or downplay that he cheated in college, cheated in previous political campaigns, is a serial liar, and worse. All of this well-documented. They ignore, contort, or censor news that he has made legions of racist statements for his whole political career; e.g., "If you have a problem figuring out whether you're for me or Trump, then you ain't black."
The Left belittles or ignores Tara Reade's quite credible sexual assault accusation against Joe Biden, and that of seven other women, as well. They pretend that Creepy Uncle Joe does not have a fetish for sniffing little girls' hair. They pretend that Biden does not constantly invade the personal space of females.
The Left ignores solid reporting and extensive documentation indicating the Biden family received millions of dollars via influence peddling to Communist China, as well as from Kazakhstan, Romania, Russia, and, above all, Ukraine. They will never acknowledge that Biden is an enabler for both his brother James and his son Hunter, and that Biden is credibly accused of selling out the U.S. They excuse the multiple batches of classified documents found recently in Biden's domains.
Above it All
The Left especially avoids referring to any signs that Biden is suffering from ever-worsening dementia, despite his numerous mental lapses on the world stage.
In short, prior to the ever-growing classified documents scandal, leftist journalists and media outlets, constantly demonstrated how far they are from being impartial and objective. They had, defacto, deemed Democrat Joe Biden to be above the law, and now are actively undermining his continuing political aspirations.
– – – – –
Become a Politicrossing insider: Sign up for our free email newsletter, and we'll make sure to keep you in the loop.
Jesus, Master of Influence
Chris Widener, speaker and best selling author of The Art of Influence, teaches that Jesus is the master of influence. In sixteen sessions you will learn from one of the most influential communicators how the life and teachings of Jesus Christ is the best model for how to become an effective influence that can change people's thoughts, beliefs and actions.
LEARN MORE
Become a PolitiCrossing insider: Sign up for our free email newsletter, and we'll make sure to keep you in the loop.