Another day, another mass shooting. This time it happened in a Boulder, CO grocery store. Go, media—do what you do best. Whip us all up into a gun-control, finger-pointing frenzy. Someone says white supremacist. What do you do? Run with it or verify first? You run with it like you mean it.
Why verify anything when you can push your preferred party's narrative? The plan is to fire away with the intellectually lazy, ideology-driven lie—mass shooters are almost always gun-loving, Second Amendment-worshiping white supremacists.
After hours of hand wringing and keyboard jabbing, you learn the white supremacist is called Ahmad Al Aliwi Alissa. He's from Syria and is a Muslim. Hold the presses. Retool the story to … got it. Shift the narrative to racism, but be careful—when it comes to a religion of peace, tread carefully, unless it's Christianity.
Journalism is dead. Left-leaning writers and editors sacrificed it four years ago. Now they seem to consider it their duty to frame the news to fit ideological preferences—even if it means sacrificing any vestiges of objectivity left over after four years of resistance to Donald Trump.
Scattershots
Since the Boulder shooting, journalists, pundits and Twitter Leftists have been in full assault mode. According to them, the NRA has more blood on their hands. So does the GOP for resisting the necessary destruction of the Second Amendment. F your thoughts and prayers, you bigots—we need legislation, not God.
Newsflash: Ahmad is the murderer, not the NRA or GOP or white Americans who own guns. We're all outraged, hurting and saddened by yet another tragic mass shooting. Claiming the moral high ground and blaming the other side is reactionary, thoughtless and despicable.
Assault weapons bans, gun-free zones, closing loopholes in background checks—it's all on the table. Chipping away at the Second Amendment is the plan. By the way, does anyone seriously think armed criminals care one whit about gun-free zones? The truth is that gun-free zones put people in danger and empower criminals. Why? Because guns aren't evil—people are.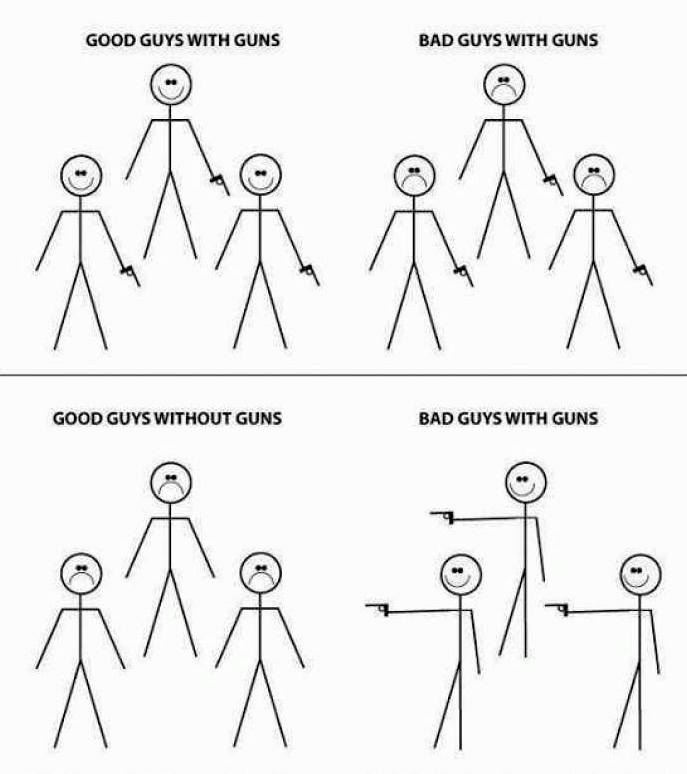 Misfires
Let's talk about assault rifles—or more accurately, semiautomatic rifles that fire one round per trigger pull (just like handguns). I can see how shooting one would be fun at the range. And I once preferred that citizens not match firepower with law enforcement or the National Guard. But now that our military leaders and guardsmen are being used by the party in power, a well-armed citizenry may be necessary to prevent tyranny.
Let's get real—guns are not the problem. They don't run down the street shooting people. They're designed to be used by good people to protect other good people. Should we limit their use? Absolutely. Here's how:
Let's make it more dangerous for criminals to use them and less difficult for law-abiding citizens to keep them. Consider Texas. It's easier for Texans to buy and use guns than for Californians to do so. Which state has a gun control problem? In the Good Ol' Days when commonsense gun ownership and respect for the Second Amendment prevailed, mass shootings were exceedingly rare. What changed?
We changed. Our culture changed. Our laws changed. Expectations of personal responsibility and accountability were co-opted by nanny-state policies. Do we really think more gun control is the answer? For decades we had little or no gun control and yet suffered a tiny fraction of the gun violence that now plagues our nation. How will more gun control address the root causes of our violence problem?
Implosion
Sadly, the problem is within us; it's within our devolving culture. For example, one side vilifies law enforcement. How can making their jobs to protect and serve us more difficult help curb violence in our streets? We're all outraged and fed up with the senseless slaughter. Let's solve the problem together.
No more grandstanding, blame-gaming, finger-pointing and moral high grounding. People are dying. We must do something to stop the slaughter. On that, there's no disagreement. We simply disagree on how best to do it.
We'd love to hear your thoughts about this article. Please take a minute to share them in the comment section by clicking here. Or carry the conversation over on your favorite social network by clicking one of the share buttons below.
Join the conversation!
We have no tolerance for comments containing violence, racism, profanity, vulgarity, doxing, or discourteous behavior. Thank you for partnering with us to maintain fruitful conversation.
They have stopped worshipping the Creator and instead worship the created.
The Democrats have become a sex cult. Sex is their religion. They have exchanged worshipping God the Creator and instead worship sex, the created. PolitiCrossing founder Chris Widener explains in this short video and gives you the true answer on how to defeat the sex cult. Read Romans 1:18-27 below the video, then watch the video.
From Romans 1:18-27
18 The wrath of God is being revealed from heaven against all the godlessness and wickedness of people, who suppress the truth by their wickedness, 19 since what may be known about God is plain to them, because God has made it plain to them. 20 For since the creation of the world God's invisible qualities—his eternal power and divine nature—have been clearly seen, being understood from what has been made, so that people are without excuse.
21 For although they knew God, they neither glorified him as God nor gave thanks to him, but their thinking became futile and their foolish hearts were darkened. 22 Although they claimed to be wise, they became fools 23 and exchanged the glory of the immortal God for images made to look like a mortal human being and birds and animals and reptiles.
24 Therefore God gave them over in the sinful desires of their hearts to sexual impurity for the degrading of their bodies with one another. 25 They exchanged the truth about God for a lie, and worshiped and served created things rather than the Creator—who is forever praised. Amen.
26 Because of this, God gave them over to shameful lusts. Even their women exchanged natural sexual relations for unnatural ones. 27 In the same way the men also abandoned natural relations with women and were inflamed with lust for one another. Men committed shameful acts with other men, and received in themselves the due penalty for their error.
It doesn't take considerable effort to engage in spiritual-type behavior that will benefit everyone
You can practice being more spiritual in little ways that add up quickly to your being a more spiritual person. For example, there are relatively minor things you can do to start the process, although nothing is minor when it comes to acting spiritually. As an example, if you smile at someone, they tend to smile back. If you go out of your way to help someone, that person might in turn help another and so on.
Spirituality certainly does not have to be restricted to the confines of organized religion. Freed from the rules, restrictions, and impediments that organized religion may impose upon you, how and where might you be more spiritual in your life?
Each little action sets in motion the potential for greater good. So, as you proceed through six items below, do not discount the value of engaging in any of these. Each has the potential to add up to more.
Spirituality While Driving
Researchers report that when people get in their cars, they think they're in some type of invisible vehicle. No one sees them as they motor down the road. If you curse or scream, who's to know? Obviously, you're not invisible and the way you conduct yourself as a motorist potentially impacts other motorists, as well as pedestrians.
The next time someone cuts you off in traffic, fails to use their turn signal properly or otherwise engages in improper driving, practice maintaining your composure.
Don't curse, scream, or honk your horn. If the other person is in view, look at them blankly, but not with disgust or anger, or a mocking smile.
Often, the other party knows what they did wrong. If not, venting your spleen is not likely to change their behavior.
If you travel frequently, say as part of your job, and often traverse high traffic arteries, chances are you'll have an opportunity at least several times a week to practice engaging in small displays of spirituality. As a goal, why not establish for yourself one composed response per week?
Each time you can remain composed, you increase the probability that you will be more composed in other aspects of your life. Perhaps you'll even be kinder to people in face-to-face encounters when they commit a transgression.
Comfort the Less Fortunate
As a small gesture of spirituality, what can you do for someone you see right on the street? It's one thing to write a check to charity; it's another to encounter someone who is in need and aid that person on the spot.
When you have shoes that you no longer wear, but are not necessarily in pieces, keep them in your trunk as you motor around town. Then, if you see a homeless person with less than sufficient footwear, and it looks like you might be roughly the same size, pull over.
Promptly get the shoes from your trunk, walk up to the person and say that you want them to accept the shoes. If he or she accepts, fine, bid them good day, and be on your way. If he or she chooses not to take them, that's okay too.
Your goal in this area could be to give away each pair of shoes or other worthwhile item of clothing that you no longer want, perhaps on a monthly basis.
Participate in Group Action
If this is not for you, volunteer once a month to serve a meal at a local shelter for the homeless. If you're a busy career type, perhaps serving dinner will work best for you. Whatever your preconceived notions about this may be, once you actually serve dinner to real live people, you'll see that reality is different than you thought.
Perhaps you think that people would be reluctant to speak up for what they wanted. Or worse, they'd be groveling, and you would have to do your best to remain humble. Perhaps you feel like you'll seem to be some kind of "goody-two-shoes," dispensing dinners with an overly pleasant, "And how are you this evening? Here's a nice dinner for you."
Actually, none of the above usually happens. Person to person, you simply serve another, as if you were in partnership. More peas? Fewer carrots? It's much more matter-of-fact than you might imagine. They're appreciative but not groveling.
Note: Some people who show up at a shelter are well dressed. Perhaps they're temporarily unemployed, or they had a financial emergency they were unprepared to handle.
The more often you serve others in this way, the easier it becomes to do it again. You start to get the notion that there are a lot more similarities between human beings than differences. The old axiom, "There but for the grace of God, go I," is much more true than we all often acknowledge.
Look for the Good in Others
Is there a co-worker with whom you have had a nasty relationship? Is there something good about this co-worker that you can draw upon, so that you can get yourself to  say something nice to him/her at your next encounter?
Will Rogers, a political satirist, entertainer, and beloved figure in the first half of the twentieth century allegedly said, "I never met a man I didn't like." Many people have interpreted Will Rogers to have meant that he could find something admirable in everyone he met. So, too, can we all.
Is there a neighbor with whom you have had a continuing squabble? What would it do to your relationship if you sent your neighbor a card or a brief note that said something along the lines of, "I noticed how lovely your garden was the other day, and wanted to let you know that I appreciate the work you've done in maintaining it."? Too syrupy, or, pardon the expression, too flowery? Guess again.
List five people at work or elsewhere in your life with whom you may not have a good relationship, but whom you can acknowledge. Next to each person's name, write a dash and then what is good about them.
You're going to be on Earth for a finite amount of time. Do you want to go through your life trading hostilities with people, never having the where-with-all to restore some semblance of civility to the relationship?
Listen More Closely
Human beings have a profound need to be heard. When you give others your full and complete attention, in essence, you're telling them that you value them as a people. All activity and concerns in your life stop as the words and emotions of another person take on paramount importance.
Listening is one of people's most underrated skills. Your ability to listen to another person, giving him or her your full and undivided attention, can be an act of spirituality, particularly if the other person needs someone to listen to him/her. In this rush-rush world, too often we want people to summarize everything they say.
Consider the people in your life who have mattered the most to you and, chances are, they were the people that listened to you best. Whether it was your parents, a brother or sister, a good friend, a relative, a teacher, a coach, a coworker, a mentor, or just somebody down the street, you tend to value those who value you by listening.
In Siddhartha, by Herman Hesse, the young Siddhartha speaks about his most well-developed skills. He can listen, he can fast, and he can wait.
These talents don't seem like much to the Western mind, but they're handy if you want to increase the spirituality of your life. As a goal, why not to listen in earnest to one person per week in the workplace whom you would not have otherwise given such time and attention?
At home, give your significant other one good listening to per day, and I promise things will go better. Do the same with each child.
Judge Deeds, Not People
Judgment is a necessary and practical skill. It's likely that you judge things, including others, all day long. After all, if you want to choose the colleges appropriate for you, friends that share similar values, and the professional, social, and civic groups that you will enjoy being a part of, you need to make some judgments.
We all judge one another, however, sometimes harshly. Everyone can learn from each other. It is so easy to fall into that game, as psychologist Carl Rogers articulated, of "mine is better than yours." It is too convenient to conclude that people who walk, talk, or look differently than we do, must be vastly different, and by extension, inferior.
As you might have already concluded, it doesn't take considerable effort to be spiritual and to engage in spiritual-type behavior that will benefit yourself, and benefit others. The opportunities are all around each of us, every day. All we have to do is be aware.
– – – – –
Become a Politicrossing insider: Sign up for our free email newsletter, and we'll make sure to keep you in the loop.
Become a PolitiCrossing insider: Sign up for our free email newsletter, and we'll make sure to keep you in the loop.