Another day, another mass shooting. This time it happened in a Boulder, CO grocery store. Go, media—do what you do best. Whip us all up into a gun-control, finger-pointing frenzy. Someone says white supremacist. What do you do? Run with it or verify first? You run with it like you mean it.
Why verify anything when you can push your preferred party's narrative? The plan is to fire away with the intellectually lazy, ideology-driven lie—mass shooters are almost always gun-loving, Second Amendment-worshiping white supremacists.
After hours of hand wringing and keyboard jabbing, you learn the white supremacist is called Ahmad Al Aliwi Alissa. He's from Syria and is a Muslim. Hold the presses. Retool the story to … got it. Shift the narrative to racism, but be careful—when it comes to a religion of peace, tread carefully, unless it's Christianity.
Journalism is dead. Left-leaning writers and editors sacrificed it four years ago. Now they seem to consider it their duty to frame the news to fit ideological preferences—even if it means sacrificing any vestiges of objectivity left over after four years of resistance to Donald Trump.
Scattershots
Since the Boulder shooting, journalists, pundits and Twitter Leftists have been in full assault mode. According to them, the NRA has more blood on their hands. So does the GOP for resisting the necessary destruction of the Second Amendment. F your thoughts and prayers, you bigots—we need legislation, not God.
Newsflash: Ahmad is the murderer, not the NRA or GOP or white Americans who own guns. We're all outraged, hurting and saddened by yet another tragic mass shooting. Claiming the moral high ground and blaming the other side is reactionary, thoughtless and despicable.
Assault weapons bans, gun-free zones, closing loopholes in background checks—it's all on the table. Chipping away at the Second Amendment is the plan. By the way, does anyone seriously think armed criminals care one whit about gun-free zones? The truth is that gun-free zones put people in danger and empower criminals. Why? Because guns aren't evil—people are.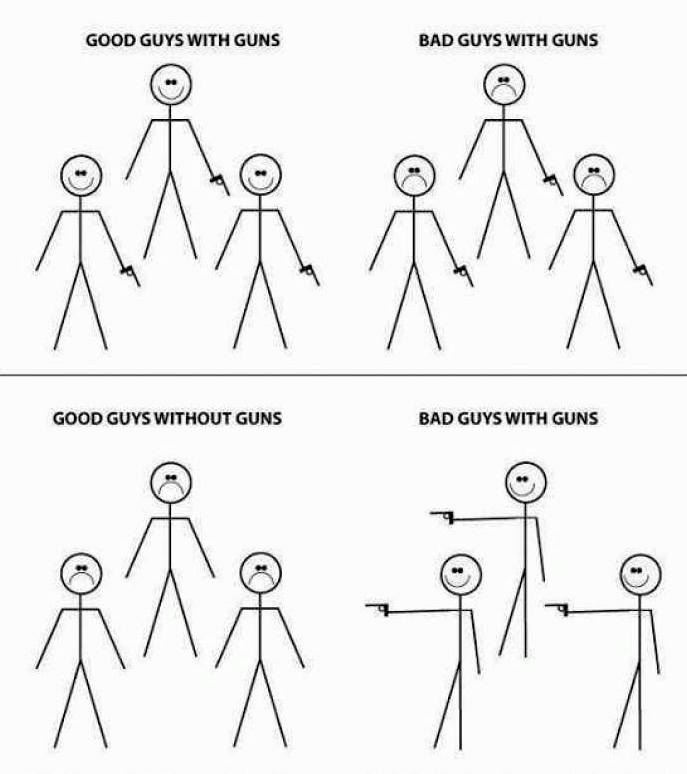 Misfires
Let's talk about assault rifles—or more accurately, semiautomatic rifles that fire one round per trigger pull (just like handguns). I can see how shooting one would be fun at the range. And I once preferred that citizens not match firepower with law enforcement or the National Guard. But now that our military leaders and guardsmen are being used by the party in power, a well-armed citizenry may be necessary to prevent tyranny.
Let's get real—guns are not the problem. They don't run down the street shooting people. They're designed to be used by good people to protect other good people. Should we limit their use? Absolutely. Here's how:
Let's make it more dangerous for criminals to use them and less difficult for law-abiding citizens to keep them. Consider Texas. It's easier for Texans to buy and use guns than for Californians to do so. Which state has a gun control problem? In the Good Ol' Days when commonsense gun ownership and respect for the Second Amendment prevailed, mass shootings were exceedingly rare. What changed?
We changed. Our culture changed. Our laws changed. Expectations of personal responsibility and accountability were co-opted by nanny-state policies. Do we really think more gun control is the answer? For decades we had little or no gun control and yet suffered a tiny fraction of the gun violence that now plagues our nation. How will more gun control address the root causes of our violence problem?
Implosion
Sadly, the problem is within us; it's within our devolving culture. For example, one side vilifies law enforcement. How can making their jobs to protect and serve us more difficult help curb violence in our streets? We're all outraged and fed up with the senseless slaughter. Let's solve the problem together.
No more grandstanding, blame-gaming, finger-pointing and moral high grounding. People are dying. We must do something to stop the slaughter. On that, there's no disagreement. We simply disagree on how best to do it.
We'd love to hear your thoughts about this article. Please take a minute to share them in the comment section by clicking here. Or carry the conversation over on your favorite social network by clicking one of the share buttons below.
Join the conversation!
We have no tolerance for comments containing violence, racism, profanity, vulgarity, doxing, or discourteous behavior. Thank you for partnering with us to maintain fruitful conversation.
Much of the information that we encounter, especially via the internet, is only partially true, if not completely bogus
So much of the information that we encounter today, especially via the internet, is only partially true, if not completely bogus. As such, I admire the work of selected authors over the past few decades. They remind me to check out what seems to be common knowledge, for the truth the lies beyond it:
Self-help author Denis Waitley observed Albert Einstein always scored quite well in math and science. Some "historians" noted that his top grade of six on a scale of one to six dropped to a level of one from one year to the next, and they arbitrarily assumed he had started to flunk those courses. The school had reversed its grading system, however, to make the highest grade a one instead of a six.
For decades, no one had bothered to examine the original "evidence" leading to the proclamation that Einstein was an academic failure.
Pop Trends
In her book, Backlash, author Susan Faludi told how "pop" market forecasters made a fortune by reviewing popular media, such as newspapers, television, movies and so forth, and then concluding what trends are looming in America. The extreme fallacy with this method of forecasting, Faludi noted, is that it tends to promulgate that which only a handful of editors, publishers and directors believe or perpetrate. No hard data supports the "forecasts."
One such forecaster was credited with coining the term "cocooning" for the 1980s, where working men and women, particularly women, decided to spend more time in the household. Faludi shows that the assertion has no relationship to U.S. Department Bureau of Labor Statistics that indicated an increase in the number of women in the workforce and in the time each spent outside the home.
Nevertheless, corporations paid hefty sums to be told where we were all headed next. Because many other factors can obscure results, if the predicted "trend" then doesn't help the corporate customer, it is rarely linked back to the forecaster. Such companies would do better, observed Faludi, to simply consult the U.S. Bureau of the Census, U.S. Bureau of Labor Statistics, and other sources that independently collect data, presumably with no bias.
Dastardly Dads?
Faludi also uncovered this: The "fact" that an epidemic of divorced fathers refused to pay child care, which is a falsehood that distorted reality for decades. According to U.S. Census Bureau figures, the great majority of fathers with joint custody of their children – nearly 90% – paid their entire support obligation, in full and on time. Some 80% of fathers with visitation privileges, but not joint custody, paid regularly. Only when the courts deprive fathers of both custody and access do support levels drop to under 50%, the figure mistakenly attributed to all fathers.
Despite the strong correlation between a man's ability to have joint custody or visitation with his children and his willingness to make regular support payments, most legislators and judges didn't seem to see it. Their automatic and immediate response in cases of nonpayment was to blame the male, instead of enforcing the man's right to visit his children and encouraging father-child relationships.
By continuing to make the majority of child custody awards to women, the courts systematically disregarded the role fathers played and all but ensured that the children would have adjustment problems. Even if a man legally wins visitation rights, his ability to visit his kids isn't guaranteed. Judges don't often put uncooperative mothers in jail. So, fathers end up going to court repeatedly – a costly venture. Sometimes after many attempts to visit their children, some fathers withhold support payments to force what the courts will not.
The media, charging to no one's rescue and in search of thirty second sound bites, label such fathers as deadbeat, or worse. Hence, the widespread misconception about the true nature of what's going on in this critical arena continues even to this day.
Abounded Influence
In his acclaimed 1990 book, Agents of Influence, author Pat Choate debunked the myth that the Japanese, as a whole, significantly contributed to the development of innovation and technology as evidenced by their annual lead in the number of U.S. patents they had filed and obtained. As Choate explained, the Japanese tilted the economic playing field, via the ruthless art of "patent flooding."
When a U.S. firm, for example, applied for a patent representing an innovation on which the Japanese wanted to capitalize, Japanese firms issued a flurry of patent applications that surrounded the technology at hand. Thus, the original developer or inventor could not market his invention  without getting clearance from the Japanese, who could tie up an invention in the courts simply because they held nuisance patents for a component or contributing element to the major patent.
After decades of such tactics, and with China included as a leading culprit, the U.S. government still has failed to install comprehensive, necessary protections to safeguard the toil and genius of the original American patent applicant. As such, our government has unwittingly contributed to the redistribution of billions of dollars in royalties and revenues to others.
– – – – –
Technology can aid humankind but if we are not careful it can diminish the quality of our lives
Researchers from the National Opinion Research Center have found that people who watch a lot of television seem to be as psychologically content as people who have many friends.
These disappointing findings stem from the fact that, "the human brain evolved long before television came along, so subconsciously it recognizes any face it sees regularly as a friend, even if it is on the screen," says Satoshi Kanazawa, Ph.D., author of the study.
Does the above explain why society remains in a stupor of overfed, undernourished, overweight, socially inept citizens? After all they are, indeed, getting their social and psychological strokes by tuning in to see their favorite "friends" each week.
Stuck in a Stupor?
Technology can certainly be an aid to human kind but if we are not careful it can greatly diminish the quality of our lives. Technology distracts us from our own thought, daydreams, even our own imagination.
When we fill in the time from the car to the elevator and the elevator to the office, or from lunch back to the office, with a cell phone, we interrupt the opportunity for people to marinate in their own imaginations.
– – – – –
Become a Politicrossing insider: Sign up for our free email newsletter, and we'll make sure to keep you in the loop.
Become a PolitiCrossing insider: Sign up for our free email newsletter, and we'll make sure to keep you in the loop.