Another day, another mass shooting. This time it happened in a Boulder, CO grocery store. Go, media—do what you do best. Whip us all up into a gun-control, finger-pointing frenzy. Someone says white supremacist. What do you do? Run with it or verify first? You run with it like you mean it.
Why verify anything when you can push your preferred party's narrative? The plan is to fire away with the intellectually lazy, ideology-driven lie—mass shooters are almost always gun-loving, Second Amendment-worshiping white supremacists.
After hours of hand wringing and keyboard jabbing, you learn the white supremacist is called Ahmad Al Aliwi Alissa. He's from Syria and is a Muslim. Hold the presses. Retool the story to … got it. Shift the narrative to racism, but be careful—when it comes to a religion of peace, tread carefully, unless it's Christianity.
Journalism is dead. Left-leaning writers and editors sacrificed it four years ago. Now they seem to consider it their duty to frame the news to fit ideological preferences—even if it means sacrificing any vestiges of objectivity left over after four years of resistance to Donald Trump.
Scattershots
Since the Boulder shooting, journalists, pundits and Twitter Leftists have been in full assault mode. According to them, the NRA has more blood on their hands. So does the GOP for resisting the necessary destruction of the Second Amendment. F your thoughts and prayers, you bigots—we need legislation, not God.
Newsflash: Ahmad is the murderer, not the NRA or GOP or white Americans who own guns. We're all outraged, hurting and saddened by yet another tragic mass shooting. Claiming the moral high ground and blaming the other side is reactionary, thoughtless and despicable.
Assault weapons bans, gun-free zones, closing loopholes in background checks—it's all on the table. Chipping away at the Second Amendment is the plan. By the way, does anyone seriously think armed criminals care one whit about gun-free zones? The truth is that gun-free zones put people in danger and empower criminals. Why? Because guns aren't evil—people are.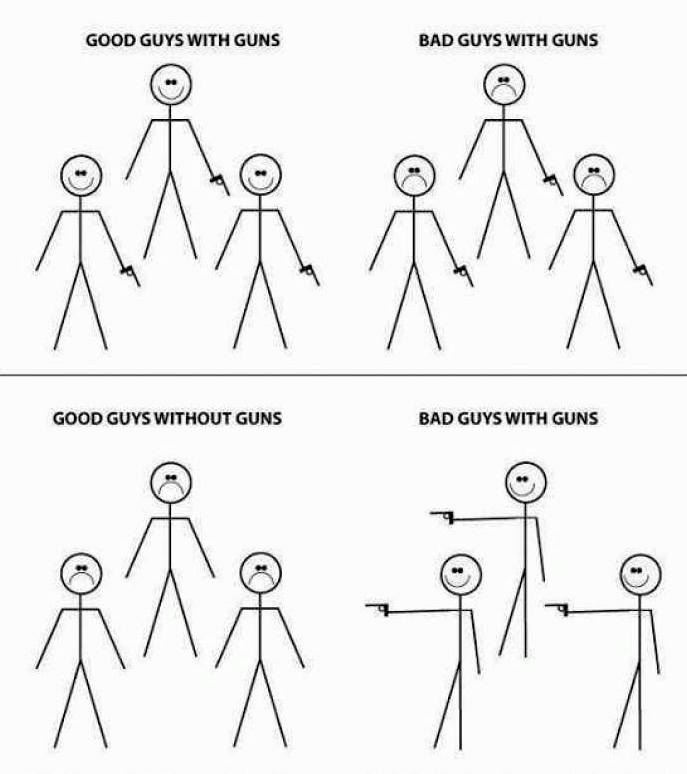 Misfires
Let's talk about assault rifles—or more accurately, semiautomatic rifles that fire one round per trigger pull (just like handguns). I can see how shooting one would be fun at the range. And I once preferred that citizens not match firepower with law enforcement or the National Guard. But now that our military leaders and guardsmen are being used by the party in power, a well-armed citizenry may be necessary to prevent tyranny.
Let's get real—guns are not the problem. They don't run down the street shooting people. They're designed to be used by good people to protect other good people. Should we limit their use? Absolutely. Here's how:
Let's make it more dangerous for criminals to use them and less difficult for law-abiding citizens to keep them. Consider Texas. It's easier for Texans to buy and use guns than for Californians to do so. Which state has a gun control problem? In the Good Ol' Days when commonsense gun ownership and respect for the Second Amendment prevailed, mass shootings were exceedingly rare. What changed?
We changed. Our culture changed. Our laws changed. Expectations of personal responsibility and accountability were co-opted by nanny-state policies. Do we really think more gun control is the answer? For decades we had little or no gun control and yet suffered a tiny fraction of the gun violence that now plagues our nation. How will more gun control address the root causes of our violence problem?
Implosion
Sadly, the problem is within us; it's within our devolving culture. For example, one side vilifies law enforcement. How can making their jobs to protect and serve us more difficult help curb violence in our streets? We're all outraged and fed up with the senseless slaughter. Let's solve the problem together.
No more grandstanding, blame-gaming, finger-pointing and moral high grounding. People are dying. We must do something to stop the slaughter. On that, there's no disagreement. We simply disagree on how best to do it.
We'd love to hear your thoughts about this article. Please take a minute to share them in the comment section by clicking here. Or carry the conversation over on your favorite social network by clicking one of the share buttons below.
Join the conversation!
We have no tolerance for comments containing violence, racism, profanity, vulgarity, doxing, or discourteous behavior. Thank you for partnering with us to maintain fruitful conversation.
If you spend less than you take in, inexorably your debt will decrease
Society conditions us to consume more than we need and to spend more than we make. However, this kind of lifestyle is a recipe for disaster. Taking back control of your finances can help you free up time and make you feel more in control of your life more of the time.
Think back to your high school and college history classes: can you recall a nation in the history of the earth that accumulated huge deficits over a prolonged period of time, lacked a concerted effort towards reducing these deficits, yet was able to sustain economic prosperity for its citizens?
Can a nation, in debt for trillions annually, or a person – namely you – consistently run up huge deficits and expect no consequences?  For decades, tens of millions of Americans have accumulated personal debt via credit cards, loans, and other forms of financing. It's likely that you have some financial debts.
Subtle Servitude
Sustained deficit spending eventually erodes your ability to prepare for the future, and worse, to capitalize on current opportunities. The more you owe, the more enslaved you are! In Consumerism, Dr. Judith Schor notes that you've likely been taught to consume more than you need.
Right now, how would it feel if all your credit cards were paid off? How would it feel if you paid your monthly rent or mortgage several months in advance? How would it feel if your car loan was paid off? How would it feel if you were actually able to pay some of your utility bills for months in advance? For most people it would feel great. You'd feel in control of your time.
We all know the arguments about losing the (minuscule) amount of interest you could have earned if you let your money sit in the bank instead of paying the electric bill three months in advance. Ah, but wait. A month after you've paid your electric bill three months in advance, you receive the next month's bill. Guess what? It shows that you have a huge credit and that nothing is due – you'll smile when you see these kinds of bills!
A Moratorium on Spending
To reduce your personal debts, place a moratorium on optional spending, regardless of what items entice you, until your credit cards have zero balances.
Paying for material things which you don't need, and certainly don't save your time, might be satisfying, but ultimately can be draining.
Here are some strategies and tactics for controlling your checkbook, and hence reclaiming your life:
1. Write out checks to pay bills in advance of their due dates. Then, keep an advance file with a folder for each day of the month. Place the check in a sealed, addressed, and stamped envelope. Then put the envelope in the folder of the day it's to be mailed. This way the money is allocated in advance in your checkbook, and your bills are paid on time. If your checking account pays interest, you don't lose interest.
2. Occasionally, overpay the balance on your continuing accounts, or pay early. This gives you the aforementioned psychological boost when you see a credit on your next statement, and gives you a good reputation with your creditors, which is handy!
3. Keep a stick-on note in your checkbook for an immediate reference that lists what's coming in this month and what needs to be paid. This provides you with a running mini-cash flow list to which you can refer at will. Update it weekly, or daily, if needed.
4. Review old checkbooks and see what you paid to whom for what. Do the same thing with your monthly credit card statements. Put a red mark next to all those expenditures that you didn't need to make, or that you could have done without after further consideration.
5. Now, considering expenditures on the horizon, which ones can you do without?
Spend Less, Save More
As author Roger Dawson says, "It doesn't matter how much money you're making; if you're spending more than you take in each month, you're headed for trouble." If you spend less than you take in, your debt will decrease, even if only a little at a time, and one day perhaps  disappear.
– – – – –
Can we be confident in advice we receive from people who have not mastered what they teach?
When the opportunity arose, I attended a lecture by one of the most well-known authors and speakers in America. I had previewed his CD and read two of his books prior to his lecture; in person, he lived up to my expectations. So, I was intrigued when a friend, involved with bringing this speaker to our area relayed a personal incident to me. 
Directly following the speaker's presentation, my friend was responsible for driving him to the airport, and accompanying him until his flight departed. That summer afternoon, it was rainy and the skies were dark.
As it turned out, the author was a nervous flyer and took several drinks in the airport lounge prior to boarding the plane.  I found this incident to be amazing because I had so often heard him say things such as, "Everything in this universe is perfect." It struck me that, in many ways, the speaker wasn't practicing his philosophy. Nevertheless, all human beings have their faults and foibles and, as time passed, I forgot about the incident.

High-Priced Gurus

One morning, I had the occasion to pick up USA Today. In the lifestyle section, there was a feature on a relationship guru and author of international best-sellers on relationships. She had won the "Oscar" of infomercials, earning $24 million in a single year.  
In this published interview, the reporter asked her why we should listen to a relationship guru who had been married five times. Five times? I couldn't believe it! She had wedded her fifth husband, some 11 years her junior, only a short time before producing her award-winning infomercial on having a successful relationship. 
In the infomercial, she is featured as having a loving relationship with her husband. Okay, but in no way does the infomercial tell us that he is her fifth husband and that she had married him three weeks ago.
Not Walking their Talk
I had a flash from the past: I recalled the story about the nervous flyer author. Yet, nothing prepared me for the revelations about the relationship guru, a self-proclaimed expert, using the slickest 21st-century marketing available to sell her information and products.  
She was well-versed in her subject matter. Upon hearing her advice, I recognized that it did seem sound. However, the larger issue is, "Can we be confident in the advice we receive from those who have not mastered what they teach, or who do not even remotely walk their talk?"
– – – – –

Become a Politicrossing insider: Sign up for our free email newsletter, and we'll make sure to keep you in the loop.
Become a PolitiCrossing insider: Sign up for our free email newsletter, and we'll make sure to keep you in the loop.