Another day, another mass shooting. This time it happened in a Boulder, CO grocery store. Go, media—do what you do best. Whip us all up into a gun-control, finger-pointing frenzy. Someone says white supremacist. What do you do? Run with it or verify first? You run with it like you mean it.
Why verify anything when you can push your preferred party's narrative? The plan is to fire away with the intellectually lazy, ideology-driven lie—mass shooters are almost always gun-loving, Second Amendment-worshiping white supremacists.
After hours of hand wringing and keyboard jabbing, you learn the white supremacist is called Ahmad Al Aliwi Alissa. He's from Syria and is a Muslim. Hold the presses. Retool the story to … got it. Shift the narrative to racism, but be careful—when it comes to a religion of peace, tread carefully, unless it's Christianity.
Journalism is dead. Left-leaning writers and editors sacrificed it four years ago. Now they seem to consider it their duty to frame the news to fit ideological preferences—even if it means sacrificing any vestiges of objectivity left over after four years of resistance to Donald Trump.
Scattershots
Since the Boulder shooting, journalists, pundits and Twitter Leftists have been in full assault mode. According to them, the NRA has more blood on their hands. So does the GOP for resisting the necessary destruction of the Second Amendment. F your thoughts and prayers, you bigots—we need legislation, not God.
Newsflash: Ahmad is the murderer, not the NRA or GOP or white Americans who own guns. We're all outraged, hurting and saddened by yet another tragic mass shooting. Claiming the moral high ground and blaming the other side is reactionary, thoughtless and despicable.
Assault weapons bans, gun-free zones, closing loopholes in background checks—it's all on the table. Chipping away at the Second Amendment is the plan. By the way, does anyone seriously think armed criminals care one whit about gun-free zones? The truth is that gun-free zones put people in danger and empower criminals. Why? Because guns aren't evil—people are.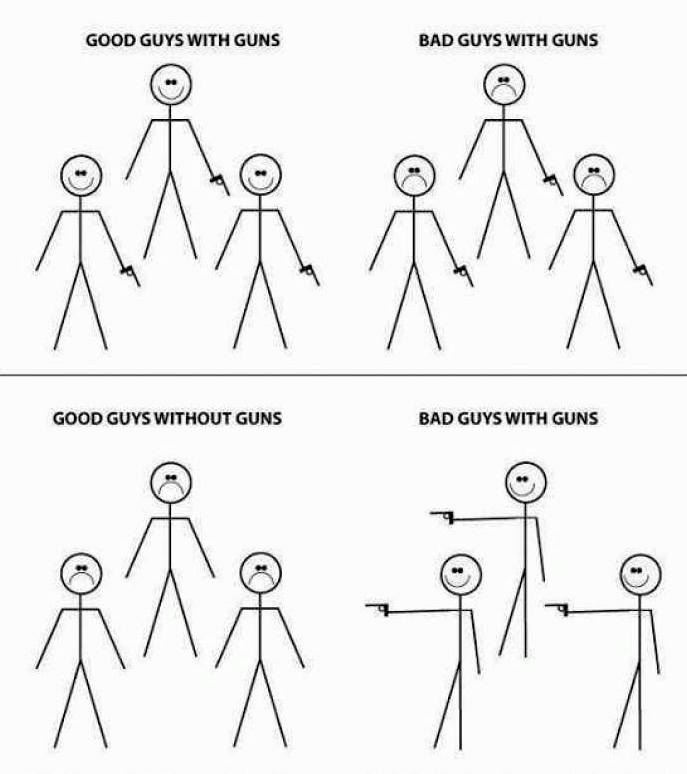 Misfires
Let's talk about assault rifles—or more accurately, semiautomatic rifles that fire one round per trigger pull (just like handguns). I can see how shooting one would be fun at the range. And I once preferred that citizens not match firepower with law enforcement or the National Guard. But now that our military leaders and guardsmen are being used by the party in power, a well-armed citizenry may be necessary to prevent tyranny.
Let's get real—guns are not the problem. They don't run down the street shooting people. They're designed to be used by good people to protect other good people. Should we limit their use? Absolutely. Here's how:
Let's make it more dangerous for criminals to use them and less difficult for law-abiding citizens to keep them. Consider Texas. It's easier for Texans to buy and use guns than for Californians to do so. Which state has a gun control problem? In the Good Ol' Days when commonsense gun ownership and respect for the Second Amendment prevailed, mass shootings were exceedingly rare. What changed?
We changed. Our culture changed. Our laws changed. Expectations of personal responsibility and accountability were co-opted by nanny-state policies. Do we really think more gun control is the answer? For decades we had little or no gun control and yet suffered a tiny fraction of the gun violence that now plagues our nation. How will more gun control address the root causes of our violence problem?
Implosion
Sadly, the problem is within us; it's within our devolving culture. For example, one side vilifies law enforcement. How can making their jobs to protect and serve us more difficult help curb violence in our streets? We're all outraged and fed up with the senseless slaughter. Let's solve the problem together.
No more grandstanding, blame-gaming, finger-pointing and moral high grounding. People are dying. We must do something to stop the slaughter. On that, there's no disagreement. We simply disagree on how best to do it.
We'd love to hear your thoughts about this article. Please take a minute to share them in the comment section by clicking here. Or carry the conversation over on your favorite social network by clicking one of the share buttons below.
Join the conversation!
We have no tolerance for comments containing violence, racism, profanity, vulgarity, doxing, or discourteous behavior. Thank you for partnering with us to maintain fruitful conversation.
The American Left is teaming with hypocritical womanizers, homophobes, and anti-white racists, all of whom receive a free pass
Pretend that you're the governor of some state, perhaps out in the Midwest. Seven different women have come forward accusing you of sexually harassing or molesting them. Suppose, as well, that you happen to be a Republican.
Cuomo Nation
As successful as you might have been in holding on to your post for the first six accusations, how long would you last after the seventh woman has come forward?
Any level headed person would conclude that you wouldn't be able to hang on for long. The press would hammer you every day. People on your staff would rebel. Those who exert any type of influence in your state's legislative body would go on the warpath, and insist that you resign immediately.
You'd have significant trouble working with elected officials, heads of agencies and commissions, and your own staff. CNN and MSNBC would feature you as a nightly topic. Yet, Andrew Cuomo can hang on for months, and possibly even for the duration of his elected term. Why? He is a Democrat.
The Joy of Being Joy Reid
Suppose that you become a nightly news anchor for a major TV network. A short time thereafter, it is revealed that you've made highly questionable, homophobic, even vicious statements and blog posts within the past decade. At your network, how quickly would you be asked to resign? A day? A week?
If you're able to retain your post, what would your relationship be with your existing staff, some of whom represent the type of people that you so ungraciously disparaged in your posts? What would your relationship be with the studio and broadcast executives? What about your audience? Would they  seek your removal?
Suppose, however, that your name is Joy Reid. You are a black woman in America, and have made statements in your blog, "The Reid Report" where you have openly "mocked public figures for their perceived femininity and gayness." Worse, you have sought to expose political opponents whom you believed to be homosexual.
Cancel-Free and Lovin' It

Many months pass and the din dies down. While your reputation has been tarnished, the Public Broadcasting System, de facto, has granted that you will continue on in your post. No real harm, right? After all, it's been 10 years, and presumably you're a better person now, eh? Yet, others at other stations, who made less derogatory comments, far more that ten years ago, have been terminated.
As a 'woman of color' in America, a Democrat, a liberal, a progressive, and one who supports the Left, you are immune from being dislodged from your position. You would have to murder somebody, live, on air, before your position would be in jeopardy. Anything that has occurred off of the air will be downplayed.
Soon, your transgression will be swept under the rug. Your deed will never completely disappear, because the Internet is eternal. However, the impact and  ramifications of your transgression can be reduced to the bare minimum.
A Caucasian-hating Asian

Your big day arrives: you land a prime position at the New York Times, "the newspaper of record." The prestige that goes along with your role is enormous. You are on the advisory committee for the editorial opinion page: You decide what makes it into print and what does not, and you get to shape what is printed.
Before you officially begin, serious allegations about you have surfaced. You've made inflammatory statements, insulting older white Caucasians. You have said, verbatim, "Oh man it's kind of sick how much joy I get out of being cruel to old white men."
You have tweeted, "Dumb*ss f*cking white people marking up the internet with their opinions like dogs p-ssing on fire hydrants" and, "White people have stopped breeding. You'll all go extinct soon. This was my plan all along."
How long would it take your employer to fire you, even before your first day? Your name, however, is Sarah Jeong. You are an Asian-American, part of a protected class, a Democrat, and a progressive who is highly supportive of Leftist causes. Despite all that is known about your past, the Times embraces you.
State of Disgrace
After a mercifully short stay, deputy editor Kate Kingsbury said, "Sarah decided to leave the editorial board in August. But we're glad to still have her journalism and insights around technology in our pages through her work as a contributor."
This is the state of the American Left today, an ideology teaming with hypocritical womanizers, homophobes, and anti-white racists. As if in The Twilight Zone, these people receive a free pass: They are Democrats, a special class and part of the upper tier in our two-tier level of justice and "social" justice.
– – – – –
Deficits are risky, whether global, national, regional, state, local, or personal
Joe Biden seeks to spend $6 trillion annually, for now. It could be higher thereafter, as our national debt climbs to staggering sums: $28.5 trillion, and $153.5 in unfunded liabilities. Has any nation in history that accumulated large deficits over a prolonged period of time and, lacking a concerted effort towards reducing them, sustained economic prosperity for its people?
Personal Deficits
Deficits are risky, whether global, national, regional, state, local, or personal. What are the deficits in your own life? For example, based on how many calories you're consuming daily, are you running a deficit in the number of calories you need to burn to maintain a proper weight level? If so, you know that you face many health risks.
Do you have a financial deficit? For decades, tens of millions of Americans have accumulated personal debt via credit cards. Sustained deficit spending erodes one's ability to prepare for the future and, worse, exploit current opportunities.
Is there a deficit in the time that you spend with relatives and loved ones? What about hobbies? Friends? Worthy causes?
Answers Appear
When you're honest with yourself about your deficits, the answers to reducing them naturally appear:
* To reduce a weight deficit, plot your weight each morning for six months. Once you become vividly aware of the relationship between calories burned and weight reduction, watching your weight drop will further reinforce your ability to maintain balance in your caloric intake.
* To reduce a personal financial deficit, place a moratorium on spending – regardless of what items entice you – until all your credit cards have zero balances.
* If you have a deficit in the time spent with friends, on hobbies, or on worthy causes, devote one evening per week to such endeavors. Give up addictive news and information via web and TV that, in retrospect, might add little to your life while creating other time-related deficits. To spend more time with your children, involve them in activities you have traditionally done without them.
Here are two resources:
Debtors Anonymous: www.debtorsanonymous.org
Obsessive-Compulsive Anonymous: www.obsessivecompulsiveanonymous.org
– – – – –
Become a Politicrossing insider: Sign up for our free email newsletter, and we'll make sure to keep you in the loop.
Become a PolitiCrossing insider: Sign up for our free email newsletter, and we'll make sure to keep you in the loop.