Another day, another mass shooting. This time it happened in a Boulder, CO grocery store. Go, media—do what you do best. Whip us all up into a gun-control, finger-pointing frenzy. Someone says white supremacist. What do you do? Run with it or verify first? You run with it like you mean it.
Why verify anything when you can push your preferred party's narrative? The plan is to fire away with the intellectually lazy, ideology-driven lie—mass shooters are almost always gun-loving, Second Amendment-worshiping white supremacists.
After hours of hand wringing and keyboard jabbing, you learn the white supremacist is called Ahmad Al Aliwi Alissa. He's from Syria and is a Muslim. Hold the presses. Retool the story to … got it. Shift the narrative to racism, but be careful—when it comes to a religion of peace, tread carefully, unless it's Christianity.
Journalism is dead. Left-leaning writers and editors sacrificed it four years ago. Now they seem to consider it their duty to frame the news to fit ideological preferences—even if it means sacrificing any vestiges of objectivity left over after four years of resistance to Donald Trump.
Scattershots
Since the Boulder shooting, journalists, pundits and Twitter Leftists have been in full assault mode. According to them, the NRA has more blood on their hands. So does the GOP for resisting the necessary destruction of the Second Amendment. F your thoughts and prayers, you bigots—we need legislation, not God.
Newsflash: Ahmad is the murderer, not the NRA or GOP or white Americans who own guns. We're all outraged, hurting and saddened by yet another tragic mass shooting. Claiming the moral high ground and blaming the other side is reactionary, thoughtless and despicable.
Assault weapons bans, gun-free zones, closing loopholes in background checks—it's all on the table. Chipping away at the Second Amendment is the plan. By the way, does anyone seriously think armed criminals care one whit about gun-free zones? The truth is that gun-free zones put people in danger and empower criminals. Why? Because guns aren't evil—people are.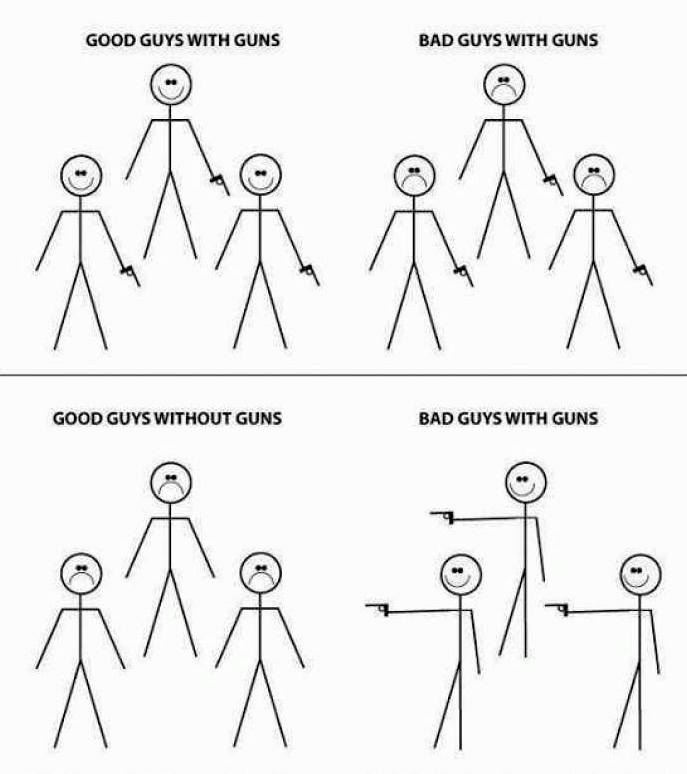 Misfires
Let's talk about assault rifles—or more accurately, semiautomatic rifles that fire one round per trigger pull (just like handguns). I can see how shooting one would be fun at the range. And I once preferred that citizens not match firepower with law enforcement or the National Guard. But now that our military leaders and guardsmen are being used by the party in power, a well-armed citizenry may be necessary to prevent tyranny.
Let's get real—guns are not the problem. They don't run down the street shooting people. They're designed to be used by good people to protect other good people. Should we limit their use? Absolutely. Here's how:
Let's make it more dangerous for criminals to use them and less difficult for law-abiding citizens to keep them. Consider Texas. It's easier for Texans to buy and use guns than for Californians to do so. Which state has a gun control problem? In the Good Ol' Days when commonsense gun ownership and respect for the Second Amendment prevailed, mass shootings were exceedingly rare. What changed?
We changed. Our culture changed. Our laws changed. Expectations of personal responsibility and accountability were co-opted by nanny-state policies. Do we really think more gun control is the answer? For decades we had little or no gun control and yet suffered a tiny fraction of the gun violence that now plagues our nation. How will more gun control address the root causes of our violence problem?
Implosion
Sadly, the problem is within us; it's within our devolving culture. For example, one side vilifies law enforcement. How can making their jobs to protect and serve us more difficult help curb violence in our streets? We're all outraged and fed up with the senseless slaughter. Let's solve the problem together.
No more grandstanding, blame-gaming, finger-pointing and moral high grounding. People are dying. We must do something to stop the slaughter. On that, there's no disagreement. We simply disagree on how best to do it.
We'd love to hear your thoughts about this article. Please take a minute to share them in the comment section by clicking here. Or carry the conversation over on your favorite social network by clicking one of the share buttons below.
Join the conversation!
We have no tolerance for comments containing violence, racism, profanity, vulgarity, doxing, or discourteous behavior. Thank you for partnering with us to maintain fruitful conversation.
All pretense that the mainstream media strives for objectivity is gone
by Jay DeLancey and Jeff Davidson
The grandest mistake the American populace committed in the last half-century was assuming that our media was even somewhat fair and balanced. Likewise proceeding in the last two decades as if the Internet giants had no dog in the political arena proved to be a mistake of historical proportions.
Today because so many people, still, are conditioned as such, the mere fact that say, a CNN, has a website prompts some people to believe that the network have something of value to offer. Victor Davis Hanson, Senior Fellow at the Hoover Institution, whose focus is classics and military history, says that the New York Times is "a shell of what it used to be."
Nothing Objective to Offer
The paper always leaned to the left, since it's founding, but it did an intermittently semi-decent job in reporting the facts. The Times sent their reporters out to the streets to do hard-core reporting. The mission was to gather relevant data, identify sources, talk to people, find eye witnesses, speak to bonafide experts, attain corroboration, and then when they were sure of what they had written, submit the story or feature.
Their articles probably never represented a 50-50 balance – perhaps 55-45 or 60-40 in favor of the left. Today, no rational media observer would contend that the balance is 70-30, or even 80-20. Study after study reveals, say, in the case of covering Donald Trump, that 92% of all features are negative, and that is not to say the remaining 8% are positive. Mostly, they're neutral.
If you are a Trump or DeSantis supporter, or a Republican running for Senate or the House of Representatives, for governor in your state, or for any other position of prominence, you simply cannot expect a fair shake from the press, nationally, and in most cases locally. Indeed, you're likely to be demonized, endlessly, over issues for which Democrats receive a free pass.
Compromised to the Breaking Point
The New York Times and The Washington Post of old, as biased as they might've been, at least offered some semblance of up-to-date information, with facts and figures when they had them, and timely reporting as situations unfolded. Hansen remarked that today the people who run these newspapers are trading on the decades of hard work and the reputations built up over more than 100 years.
Those who put in the seed work are dead and gone and thus, obviously, have no say about what's going on today. The Times and the Post, in less than a generation, are destroying their own reputations. The people who currently run these 'news' organizations are dragging them down at warp speed and don't even recognize the damage that they are doing.
By 2030, what is now a shell of an organization will be less so, and it wouldn't be too wild to predict that the Times could totally morph into something else. The Post is not far behind in devising its own demise.
The Pretense is Gone
Each of the countless newspapers that feed off of these two publishing giants suffer as well. All such pretense that the mainstream media strives for objectivity is gone. The good news, if you could call it that, is everyone on the right is now vitally all aware that this has happened.
Those who strive for integrity in elections, those who are on the right, and those who are routinely demonized by the left, understand what's occurring to the nth degree. It's not fair, but to know what you face is a benefit of sorts.
– – – – –

By today's standards JFK would be considered a conservative
With RFK, Jr. already favored by a sizable percentage of Democrats for the 2024 nomination, I recall a visit I made to his mother's home. In 1988, I was invited by a friend to attend a Democratic fund raising reception for a congressional candidate, running in Northern Virginia. The reception was to be held at the home of Ethel Kennedy in McLean, VA.
I was eager to attend, although skeptical that the reception would actually be held in Mrs. Kennedy's home. I felt certain it would be held in the back yard, or in a special tent on grounds that were meticulously groomed for the event.
To my surprise, the event was held in her home and the hundreds of people who attended apparently were free to roam about the first floor without restriction. I found this to be totally amazing. Here was a home, that by any measure, contained artifacts which future generations would clamor to see.
A Panoply of Pop Culture and History
Every room contained personal photos of Bobby Kennedy, Jack Kennedy, Jackie Kennedy, Ted Kennedy and the entire clan, as well as awards, citations, and personal mementos. Guests could have pocketed their choice of mementos at any time. Apparently none did – at any time. More astounding, Mrs. Kennedy seemed completely unconcerned about the possibility.
As I meandered about the grounds, I made my way to the pool house. Between a couch and a chair, on a phone stand, along with the phone, was a roster of phone numbers typed and inserted in a plastic sleeve. I looked at the list. Ted Kennedy's congressional phone number and his private number in Hyannis were listed. Jackie Kennedy's personal phone number in New York was listed. Other family members, celebrities' and luminaries' personal phone numbers were listed.
Any reporter or paparazzi could have cashed in simply by copying the numbers on the list and selling them to the tabloids. This backyard, this yard, this house, on a typical street in McLean, VA had no fences, no guard dogs, none of what I would have expected the widow of a historical figure – a millionairess – to have.
People-oriented to the Max

I thought about all the time and energy that I, and most of the people I know, spend to safeguard our privacy, to ensure no one is looking over our shoulder when we're doing something as simple as reading a newspaper on an airplane. Ethel Kennedy, however, was a public person, circa 1988.
It seemed inconceivable that an Ethel Kennedy could be so open and people-oriented, and not need the barriers and protectors that most of us believe we need.
As that night's affair ended, I marveled when Ethel Kennedy stood at the door and bade all guests a fond farewell. She shook my hand and thanked me for coming as if I had been one of the Democratic Party's most staunch supporters and honored guests in her home.
Accessible and Not-off-the-Wall
I was not a Democrat and never seek to be one, but this I know: by today's standards JFK would be considered a conservative, or certainly  someone 'unworthy' of the Democrat nomination. RFK senior likely would be in the same category.
Sure, many of their views and policies would be appear to be be left of center or at the center, but perhaps no more so than John McCain or George W. Bush. In any case, any Kennedy would be preferable to the tyrannical Leftist monsters currently in power, seeking to destroy America.
– – – – –
Become a Politicrossing insider: Sign up for our free email newsletter, and we'll make sure to keep you in the loop.
Become a PolitiCrossing insider: Sign up for our free email newsletter, and we'll make sure to keep you in the loop.