Another day, another mass shooting. This time it happened in a Boulder, CO grocery store. Go, media—do what you do best. Whip us all up into a gun-control, finger-pointing frenzy. Someone says white supremacist. What do you do? Run with it or verify first? You run with it like you mean it.
Why verify anything when you can push your preferred party's narrative? The plan is to fire away with the intellectually lazy, ideology-driven lie—mass shooters are almost always gun-loving, Second Amendment-worshiping white supremacists.
After hours of hand wringing and keyboard jabbing, you learn the white supremacist is called Ahmad Al Aliwi Alissa. He's from Syria and is a Muslim. Hold the presses. Retool the story to … got it. Shift the narrative to racism, but be careful—when it comes to a religion of peace, tread carefully, unless it's Christianity.
Journalism is dead. Left-leaning writers and editors sacrificed it four years ago. Now they seem to consider it their duty to frame the news to fit ideological preferences—even if it means sacrificing any vestiges of objectivity left over after four years of resistance to Donald Trump.
Scattershots
Since the Boulder shooting, journalists, pundits and Twitter Leftists have been in full assault mode. According to them, the NRA has more blood on their hands. So does the GOP for resisting the necessary destruction of the Second Amendment. F your thoughts and prayers, you bigots—we need legislation, not God.
Newsflash: Ahmad is the murderer, not the NRA or GOP or white Americans who own guns. We're all outraged, hurting and saddened by yet another tragic mass shooting. Claiming the moral high ground and blaming the other side is reactionary, thoughtless and despicable.
Assault weapons bans, gun-free zones, closing loopholes in background checks—it's all on the table. Chipping away at the Second Amendment is the plan. By the way, does anyone seriously think armed criminals care one whit about gun-free zones? The truth is that gun-free zones put people in danger and empower criminals. Why? Because guns aren't evil—people are.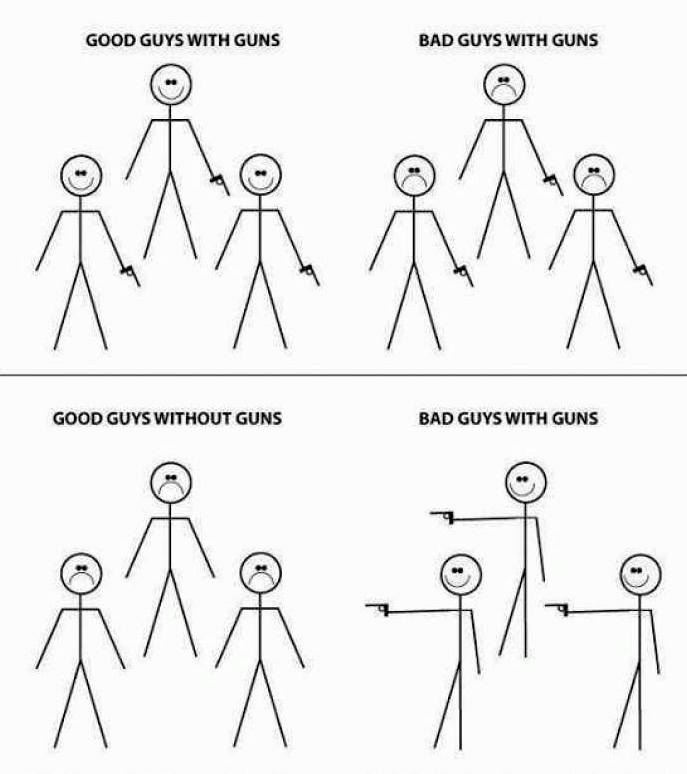 Misfires
Let's talk about assault rifles—or more accurately, semiautomatic rifles that fire one round per trigger pull (just like handguns). I can see how shooting one would be fun at the range. And I once preferred that citizens not match firepower with law enforcement or the National Guard. But now that our military leaders and guardsmen are being used by the party in power, a well-armed citizenry may be necessary to prevent tyranny.
Let's get real—guns are not the problem. They don't run down the street shooting people. They're designed to be used by good people to protect other good people. Should we limit their use? Absolutely. Here's how:
Let's make it more dangerous for criminals to use them and less difficult for law-abiding citizens to keep them. Consider Texas. It's easier for Texans to buy and use guns than for Californians to do so. Which state has a gun control problem? In the Good Ol' Days when commonsense gun ownership and respect for the Second Amendment prevailed, mass shootings were exceedingly rare. What changed?
We changed. Our culture changed. Our laws changed. Expectations of personal responsibility and accountability were co-opted by nanny-state policies. Do we really think more gun control is the answer? For decades we had little or no gun control and yet suffered a tiny fraction of the gun violence that now plagues our nation. How will more gun control address the root causes of our violence problem?
Implosion
Sadly, the problem is within us; it's within our devolving culture. For example, one side vilifies law enforcement. How can making their jobs to protect and serve us more difficult help curb violence in our streets? We're all outraged and fed up with the senseless slaughter. Let's solve the problem together.
No more grandstanding, blame-gaming, finger-pointing and moral high grounding. People are dying. We must do something to stop the slaughter. On that, there's no disagreement. We simply disagree on how best to do it.
We'd love to hear your thoughts about this article. Please take a minute to share them in the comment section by clicking here. Or carry the conversation over on your favorite social network by clicking one of the share buttons below.
Join the conversation!
We have no tolerance for comments containing violence, racism, profanity, vulgarity, doxing, or discourteous behavior. Thank you for partnering with us to maintain fruitful conversation.
What kind of society, de facto, condones such reckless behavior?
The senseless loss of five university students in a house fire has stung my community. These were top students, accomplished individuals, and potential leaders.
Someone has got to ask the tough questions right now, while the pain of their loss is intense. In what kind of society do presumably the best and brightest engage in highly questionable activities? An all-night party? Started at what hour? Preceded by what? To end when?
How much alcohol flows? How many drugs are dispensed? Obtained from and by whom? Ingested by whom? How many cigarettes are lit? How many butts wantonly burn down to nothing? What else is lit and smoked?
Foolish Behavior Condoned
The largest and toughest question of all behind these is what kind of society, de facto, condones such foolish and, in too many tragic instances, reckless behavior? Drunk students falling out of windows to their death, engaged in chugging contests until they vomit, on weeknights no less, walking the campus in a state of high lethargy? Being rushed to emergency wards?
Sure, install the proper sprinkler and alarm systems, but acknowledge the ruthless reality that confronts us. Colleges today are the stomping grounds for legions of students who drink and take drugs with abandon. They sit like zombies in morning classes if they can make it out of bed at all. Professors pretend that it is not happening. University administrators accept such behavior as 'part of the times.'
Such phenomena are more wide sweeping than anyone cares to admit. They are testament to the abandonment of standards, the 'everything is allowed' overly permissive culture in which no student is safe.
Break the Silence
If the students who died were among the finest people that communities engender, what does their loss portend for others? And when will responsible adults break the silence about the utter absurdity with which too many students live their lives?
– – – – –
This is what the bible says about sex…
Are you a conservative business person? Then check out the Red Referral Network and partner with Dinesh D'Souza by clicking the banner below:
PolitiCrossing Founder Chris Widener takes us through a scriptural understanding of exactly why Satan and Democrats are obsessed with sex and pushing the issue so hard on our country.
Are you a conservative business person? Then check out the Red Referral Network and partner with Dinesh D'Souza by clicking the banner below:
Become a Politicrossing insider: Sign up for our free email newsletter, and we'll make sure to keep you in the loop.
Become a PolitiCrossing insider: Sign up for our free email newsletter, and we'll make sure to keep you in the loop.