Another day, another mass shooting. This time it happened in a Boulder, CO grocery store. Go, media—do what you do best. Whip us all up into a gun-control, finger-pointing frenzy. Someone says white supremacist. What do you do? Run with it or verify first? You run with it like you mean it.
Why verify anything when you can push your preferred party's narrative? The plan is to fire away with the intellectually lazy, ideology-driven lie—mass shooters are almost always gun-loving, Second Amendment-worshiping white supremacists.
After hours of hand wringing and keyboard jabbing, you learn the white supremacist is called Ahmad Al Aliwi Alissa. He's from Syria and is a Muslim. Hold the presses. Retool the story to … got it. Shift the narrative to racism, but be careful—when it comes to a religion of peace, tread carefully, unless it's Christianity.
Journalism is dead. Left-leaning writers and editors sacrificed it four years ago. Now they seem to consider it their duty to frame the news to fit ideological preferences—even if it means sacrificing any vestiges of objectivity left over after four years of resistance to Donald Trump.
Scattershots
Since the Boulder shooting, journalists, pundits and Twitter Leftists have been in full assault mode. According to them, the NRA has more blood on their hands. So does the GOP for resisting the necessary destruction of the Second Amendment. F your thoughts and prayers, you bigots—we need legislation, not God.
Newsflash: Ahmad is the murderer, not the NRA or GOP or white Americans who own guns. We're all outraged, hurting and saddened by yet another tragic mass shooting. Claiming the moral high ground and blaming the other side is reactionary, thoughtless and despicable.
Assault weapons bans, gun-free zones, closing loopholes in background checks—it's all on the table. Chipping away at the Second Amendment is the plan. By the way, does anyone seriously think armed criminals care one whit about gun-free zones? The truth is that gun-free zones put people in danger and empower criminals. Why? Because guns aren't evil—people are.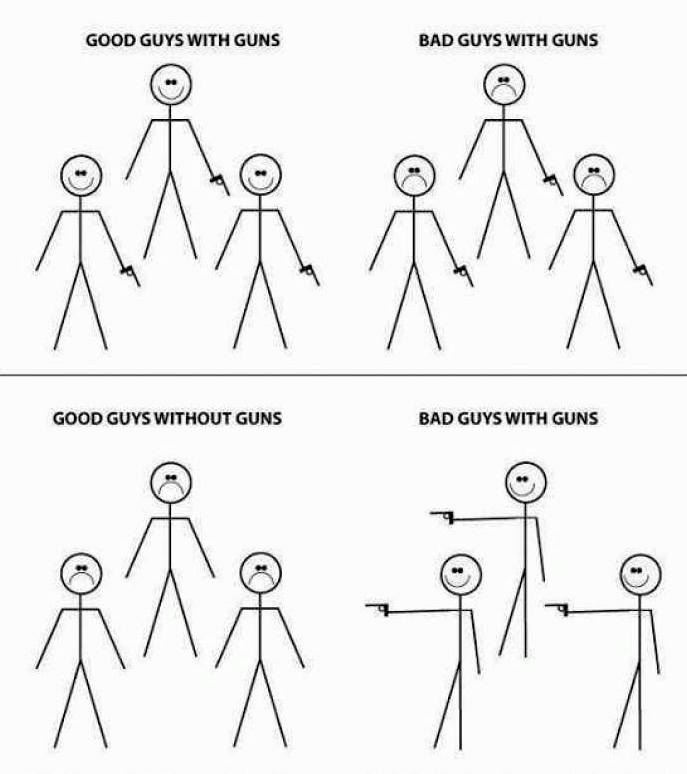 Misfires
Let's talk about assault rifles—or more accurately, semiautomatic rifles that fire one round per trigger pull (just like handguns). I can see how shooting one would be fun at the range. And I once preferred that citizens not match firepower with law enforcement or the National Guard. But now that our military leaders and guardsmen are being used by the party in power, a well-armed citizenry may be necessary to prevent tyranny.
Let's get real—guns are not the problem. They don't run down the street shooting people. They're designed to be used by good people to protect other good people. Should we limit their use? Absolutely. Here's how:
Let's make it more dangerous for criminals to use them and less difficult for law-abiding citizens to keep them. Consider Texas. It's easier for Texans to buy and use guns than for Californians to do so. Which state has a gun control problem? In the Good Ol' Days when commonsense gun ownership and respect for the Second Amendment prevailed, mass shootings were exceedingly rare. What changed?
We changed. Our culture changed. Our laws changed. Expectations of personal responsibility and accountability were co-opted by nanny-state policies. Do we really think more gun control is the answer? For decades we had little or no gun control and yet suffered a tiny fraction of the gun violence that now plagues our nation. How will more gun control address the root causes of our violence problem?
Implosion
Sadly, the problem is within us; it's within our devolving culture. For example, one side vilifies law enforcement. How can making their jobs to protect and serve us more difficult help curb violence in our streets? We're all outraged and fed up with the senseless slaughter. Let's solve the problem together.
No more grandstanding, blame-gaming, finger-pointing and moral high grounding. People are dying. We must do something to stop the slaughter. On that, there's no disagreement. We simply disagree on how best to do it.
We'd love to hear your thoughts about this article. Please take a minute to share them in the comment section by clicking here. Or carry the conversation over on your favorite social network by clicking one of the share buttons below.
Join the conversation!
We have no tolerance for comments containing violence, racism, profanity, vulgarity, doxing, or discourteous behavior. Thank you for partnering with us to maintain fruitful conversation.
Commercial Warfare is just the tip of the iceberg. Costco stops carrying "My Pillow" products, MLB boycotts Georgia, Movie producers join them, then Delta and Coca Cola pile on. These are just the headliner instances but Commercial and Societal Warfare is being practiced throughout our society…and it is cancerous.
Most people watch the news or read it on their phones, then they shake their heads in disgust or tell their nearby family or friends how outrageous they think things are. What they don't realize, however, is that they too are soldiers in this war.
The fact that they aren't fighting is the problem.
We watch the news and ask, "What good would it do for me to speak up?" We say, "It wouldn't make a difference." Oh yes it does and would.
By a small margin of votes like yours, the Democrat candidates took the Senate in Georgia. By a small margin of votes, key counties in swing states went for Biden, or should I say went against Trump. (It's my observation that almost nobody voted FOR Biden, but lots of people voted AGAINST Trump.)
The media at all levels, international, national, regional and local, have sustained a campaign of bias against conservatism. They claim that "woke" good intentions are their motive, but the reality is that they abandoned their journalistic duty to bring us the truth and instead gave us opinions disguised as truth. We trusted them, but we should have recognized them as soldiers in the ongoing war against us and our freedom.
War used to be physical. It was about real estate, controlling the high ground, capturing the castle, annexing more land. Battles were fought with weapons like knives, arrows, bullets, bombs, diseases, toxins, and destruction. Millions of people were killed so that their countries couldn't resist. That was mom and dad's version of war.
Today war is being fought online, in "news" reports, in classrooms, in popular television shows, in movies, through public terror campaigns disguised as protests, through the corruption of public utilities and police departments, in city council chambers, via mayor's offices and state legislatures, plus in courtrooms.
But, make no mistake, it is a real war. It is as real as the 163 days of non-stop combat my father experienced in the Philippines and on Guadalcanal in World War 2. It just doesn't look or feel the same.
Policies, regulations and denied essential services can be as devastating as bombs when placed strategically. When you can't enroll your child in the school of your choice then the only viable option is public school indoctrination or home schooling. When colleges are more bent on teaching "inclusiveness" and "white guilt" than math, English and science, then a university degree becomes a Woke Passport instead of intellectual advancement. When a company is fined for allowing you to not wear a mask in a local coffee shop then commerce diminishes and small businesses struggle to survive. 
When it is no longer OK to compliment a person of another gender, or say "man" or "woman", or notice someone's skin color, or mention your Christian holiday (as in "Merry Christmas"), or assume that most people are heterosexual, or admire a statue of a long forgotten hero, or name your school after one of America's founding fathers, then folks, we are in trouble.
Battles are being won and we aren't even showing up to fight. 
As they see that we aren't resisting in any meaningful ways, they increase the attack. Audacity has become their default mode. The more outrageous it is, the more it tests our resolve and shows our weaknesses. In conventional warfare this would be a feigned attack on the enemy's fortifications to see how much pressure it would take to overwhelm them and to see how they would defend themselves. If the attack failed, a new strategy would be tried until the vulnerability was found. Then victory would be certain. 
In Societal warfare all weapons are on the table. Rumors are weapons and when placed strategically they can weaken the credibility of leaders and cause panic among the followers. If they can control the mainstream news media and slant their comments and observations to show disdain or cynicism toward your enemy's respected leaders, then the leaders become less effective. Simple comments that are untrue but placed within a broader comment usually go unchallenged. But, as in a courtroom, when the judge says to the jury, "Disregard that last remark." We know that everyone heard it and considered it. So, a statement like, "In the Trump-inspired Capitol insurrection…", becomes accepted as if it were based in truth. But the riot at the Capitol was no more an "insurrection" than the outrageous confrontations in the Capitol hallways done by the Left during the Kavanaugh hearings. A handful of paid vandals committed criminal acts on January 6th but most people were just loud, not harmful. And there is no evidence to indicate that the violence that day was inspired or even condoned by President Trump. Nonetheless, a large number of citizens now accept it as true. 
President Clinton proved repeatedly that a statement oft repeated becomes accepted. When some Republican initiatives were shown to be more popular than his, he simply started claiming them as his own. After awhile it was assumed he was their author. Today we hear terms that cannot be substantiated but by repetition in mainstream sources they gain acceptance as hard facts. "White privilege" and "Racial oppression", "Voter suppression", "Police brutality", "Male dominance", "Social justice" all are terms we have come to know and hear daily. But drill down on any of them and you'll find scant evidence that it's worth worrying about. Individual instances, sure, but not "Systemic" causes. 
What are we doing to resist these attacks? Have you changed your shopping patterns to boycott offenders? Do you campaign for conservatives in your local community? Do you get out the vote for city council, school board, county commissioner, or local judge races? Do you attend meetings and challenge the new policies and regulations? Do you write to your local, regional, or state representatives? The vast majority of the news we get is national and international. But the biggest affect on our daily life is at the local or state level. "All politics is local," said former House Speaker Tip O'Neill, and that's certainly where it is felt most.  
In World War 2 Germany took over France. They marched in by the tens of thousands and occupied the country. They dominated all public functions and even intruded into private life. But, life always finds a way, as Jurassic Park told us. The French Underground, the Resistance, quickly formed and covertly operated for years to assist anyone who might defeat the German occupiers. That same thing happens anywhere an oppressive regime takes over. A "Black Market" is the first to form, people trade goods that are limited or controlled. 
We need to be resisting in all legal, ethical and non-violent ways we can. Even though many of the Left do not operate by legal or ethical standards. 
The border crisis or "challenge" is a disastrous situation that was created intentionally with anticipated effects. Any thinking person could predict the surge of invaders and even anticipate their favored tactics. Cartels and other adversaries assemble children by the thousands to overwhelm our system because they know that Americans are sympathetic to children and will abandon their defenses in order to protect kids. That has become  their main diversion. Put the kids up front and on the news, make them helpless, wait for the Americans to rescue them, then quickly get the illegal drugs, gang members and terrorists across the border while they are distracted. It has been working for months now. This was intentionally done through a policy change at the White House on the first day of the Biden administration. Talk about audacity! 
Societal warfare is upon us and coming to your street soon. It's time to join the battle with information, showing up, recruiting others, countering the indoctrination of our kids, electing conservative representatives and local officials, resisting and challenging oppressive policies and rule changes. Don't elect familiar names or people who simply say good words. Elect people who are willing to stand up and resist the socialist intrusions. Start communicating more than ever. Be heard! 
Apparently you aren't allowed to ask pointed questions that make the leftist overlords look bad.
Apparently you aren't allowed to ask pointed questions that make the leftist overlords look bad. Check out PolitiCrossing Founder and motivational speaker Chris Widener's post that earned him the threat:
If Covid was so deadly, would Democrat politicians get caught without their masks dining at French Laundry? Or going maskless in their private jet terminals? Or at the ball games they attend? Would they really risk their very lives?
If the seas were really going to rise from global warming would Obama really own thirty million dollars of beach front properties?
If this is so deadly, would they allow us to pack hundreds of people into an airplane eighteen inches from each other (yet require you to "social distance" while you get off the plane)? Would they allow thousands of people to use the same touch screen to check in in airports like I just did ten minutes ago?
You have been fooled my friends. Look at what they do, not at what they say. The biggest scams in human history are being pulled on us and half our country goes along with it because they have no discernment of right and wrong or truth and error. And worse, when you call them on their BS, they act indignant and curse and belittle you.
Why would they keep virologists from the best schools in America from getting their message out that this is a scam? Why would they keep you from using medications that have been around and safely used for decades?
We simply cannot continue to allow these shysters to harangue us into complicity. I for one will continue to fight until my dying day for truth against duplicitous manipulation.
If someone told a crowd of 1000 people that they have to shut down their businesses and stay home from school and wear masks or else ONE of those 1000 people would die in the next year, would you do it? Of course not. That's the math, and only if you believe all the reported cases of death by Covid were actually true but of course we know that many deaths were categorized as Covid deaths but weren't.
And yet that is exactly what we have done.
Why would they roll out a vaccine that doesn't even keep you from getting Covid and has tons of side effects and roll out national marketing campaigns to pressure everyone to get it?
What's really going on here?
It is time to put on your thinking caps, my friends. Just because someone in authority says something is true doesn't make it so.
Become a Politicrossing insider: Sign up for our free email newsletter, and we'll make sure to keep you in the loop.
Become a PolitiCrossing insider: Sign up for our free email newsletter, and we'll make sure to keep you in the loop.